When Snapchat first hit the scene back in 2011 it was an instantaneous hit with younger audiences because it offered something that was almost impossible to find on the internet — transience.
In the 11 years since, Snapchat has evolved to more closely resemble its social media counterparts (which in turn have adopted many Snapchat-style functionalities). And while the platform's signature ephemerality has remained, it is becoming increasingly clear that Snapchat's more enduring contribution to the evolution of online connection will very likely be in the realm of augmented reality.
On average, Snapchat sees more than 6 billion AR Lens plays every day, and parent company Snap, Inc. is making significant investments in the space with the launch of an AR Lab in 2021 to help brands develop AR experiences and the acquisition of AR commerce company Vertebrae earlier this year, among other moves.
Snap's first forays into AR were decidedly playful, with lenses that let users try on various animal features or make silly face distortions, but as the tech has evolved so has Snapchat's use of it. Now, AR is playing a central role in the platform's commerce ambitions at the same time that the tech is becoming more ubiquitous and useful.
"Augmented reality has entered the mainstream and become a powerful tool for connectedness among people and brands," said Sharon Silverstein, Head of U.S. Verticals at Snap in an interview with Retail TouchPoints. "AR's ubiquity can be attributed to the fact that the vast majority of people have a cell phone in their pocket and are social media users. With this, brands have leveraged AR to give consumers a new way to connect with content, a new lens by which to see the world and ultimately, a new form of commerce."
New research from Snap and Ipsos predicts that by 2025, nearly 75% of the global population and almost all people who use social/communication apps will be frequent AR users. The study — which surveyed nearly 25,000 smartphone users ages 13 to 44 as well as 1,000 senior decision makers from brands and agencies — offers powerful insights into the future potential of AR and a peek into how Snap hopes to get an edge in social commerce:
Consumers are increasingly using AR for more than just fun as they seek to make their digital experiences more meaningful and efficient;
Shopping is the No. 1 use case for AR with both consumers and brands seeing a range of benefits in the form of accuracy, loyalty and inclusivity; and
AR will play a central role in Snap's plans to create new, more meaningful shopping experiences for consumers.
Evolving From Fun to Function
The Snap study found that while 90% of U.S. brands think AR is primarily for fun, only 57% of U.S. consumers think of it this way, highlighting a growing divide in how brands are using AR and what consumers would like from the technology.
"For businesses and consumers both, AR has evolved," explained Silverstein. "Our report found that while AR is leveraged for fun and entertainment use cases, there is a growing interest from consumers to shift future usage for utility, which can also contribute to meaningful ROI for businesses. As we continue to explore new AR applications, we hope to expand our AR capabilities to various partners across industries to create more personal, immersive and interactive experiences."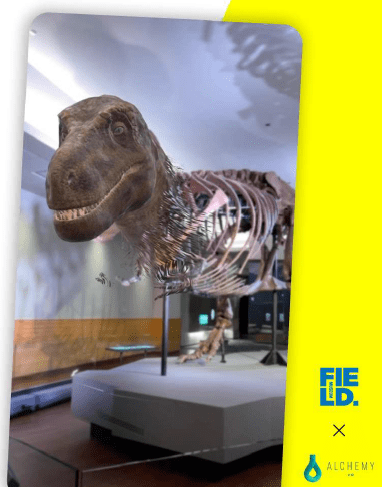 Among the many ways consumers said they would be interested in using AR are:
Post-purchase experiences (95%);
Learning (84%);
Accessing maps to help with navigation (83%);
Exploring the world around them (80%);
During entertainment such as at concerts or live sporting events (79%);
To participate in wellness or fitness activities (78%);
Instructions for how to achieve a task or fix something (75%); and
At events and conferences (73%).
The disconnect between brand and consumers is striking across the board, but most notably in the education category where 84% of consumers said they'd be interested in AR tools for learning, but only 27% of brands saying they were interested in providing those kinds of experiences. These disconnects, according to Snap, offer untapped opportunity for brands to become earlier adopters of new consumer experiences.

Leveraging AR as a Commerce Enabler
By far the most common functional use for AR is for shopping — six in 10 consumers now identify shopping as their primary reason for using AR, calling out the technology's utility in making online shopping easier and faster.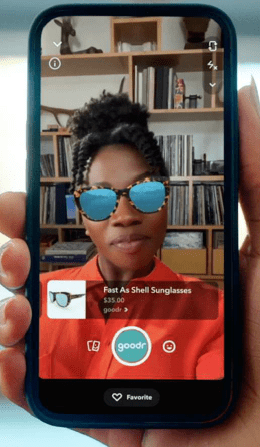 "Retail is omnichannel, and AR is emerging as a new branch of ecommerce," said Silverstein. "When buying products online, shoppers want to make purchases that they'll be happy with, and AR allows them to try on products as if they were in the store's fitting room. Experiencing retail AR in a digital setting like Snapchat also gives users the ability to discover, try on and share products with friends to solicit feedback like they would in an in-person setting."
Brands are also seeing the benefits, with 87% saying AR improves brand engagement and helps them appeal to younger audiences. Not to mention that AR try-on has been proven to increase conversion and reduce returns. The Snap study found that interacting with products that have an AR experience leads to a 94% higher conversion rate, and 81% of shoppers said they are more confident in their purchases after using AR. For example, Zenni Optical saw a 42% higher return on ad spend (ROAS) on promotions that featured Snap's true-to-size eyewear Lens technology, said Silverstein.
Brands are also turning to AR to enhance their inclusivity initiatives both by making experiences and tools available to larger audiences online, and by helping clients find exactly the right size or shade. JCPenney, for example, has deployed a suite of new AR tools for this specific purpose in its new online beauty experience.
What it All Means for Snap
In the world of social media, Snapchat is small but significant. The platform boasts 600 million monthly active users (MAUs) globally — certainly nothing to sneeze at but still nowhere near Facebook's 2.9 billion, Instagram's 2 billion or TikTok's 1 billion MAUs.
Those three competitors in particular are also leading the charge in social commerce. To compete with these Goliaths, Snapchat will need a David-esque edge and at this point it should be pretty clear what the company thinks that will be: "Over the past few years, AR Lenses on Snapchat have evolved from being just for entertainment and self-expression to having true utility for both consumers and businesses to engage with commerce in a new way," said Silverstein. "Snapchatters are no longer just coming to the app to select funny Lenses on their photos to friends. They're coming for more utilitarian uses such as product try-ons."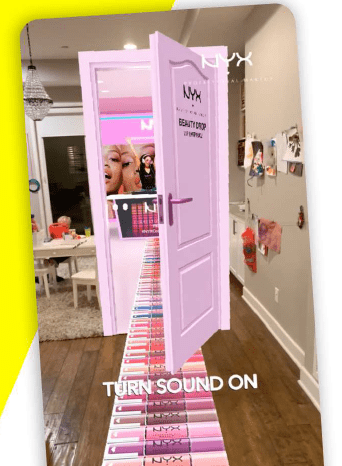 Since January of last year, 250 million+ Snapchatters engaged with AR shopping Lenses more than 5 billion times, according to Silverstein. Brands are getting in on the action with more than just try-on tools; they are launching AR-enabled virtual pop-up stores, shoppable guides and more.
And Snap isn't relegating its AR tech to its own platform. As Silverstein pointed out, the company's developments in augmented reality are also increasingly being used by brands off Snapchat as well: "For example, we have global brands such as Puma leveraging features like Camera Kit for AR Shopping, a software development kit that allows businesses to bring our AR try-on technology into their own apps, which enables shoppers to digitally try-on Puma sneakers," she said.
One place Snap isn't focused at the moment though is the metaverse: "At Snap, we're all about enhancing the existing world around us, not escaping it," said Silverstein. "We believe that most people enjoy spending time together in the real world, and our strategy is to overlay computing onto the world and create useful experiences through AR. That's why we talk specifically in terms of the value we provide our community with the products and solutions they're familiar with and can leverage today."