British newspaper The Independent has always been a bit of a rebel. Founded in 1986 despite skepticism about whether the UK needed another national paper, The Independent has lived up to its name for more than 30 years now. In 2016, it became the first national British newspaper to move fully online, and now it is among the first publishing outlets to employ a new technology that turns its articles into commerce vehicles.
Like many other publications, The Indy (as it's known by readers) has been working with brands and retailers for years through affiliate marketing relationships, primarily on its reviews section IndyBest. Nestled within articles about where to find a dress like Kate Middleton's or the top 10 smart home devices are links to sites where readers can buy the products being discussed. Now, readers can purchase some of those items directly from The Independent, right there on the publication's website.
"Since moving to digital in 2016, we're always looking for innovative ways to serve our readers," said Campbell Price, Ecommerce Director at The Independent in an interview with Retail TouchPoints. "[IndyBest] has traditionally been powered by affiliate revenue, and while that's great, it's an extra step to get a deeper relationship with that audience. We see this [new integration] as a way to go a bit deeper with our most engaged readers."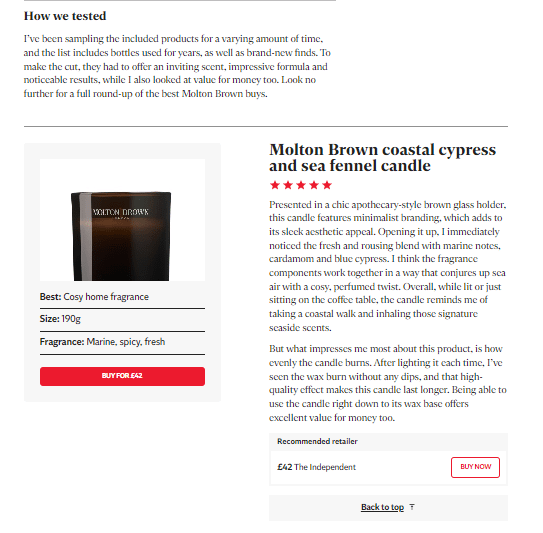 The new offering is powered by Bolt's Checkout Everywhere solution (originally called Tipser until it was acquired by Bolt in late 2021), which allows websites of all kinds to add transaction capabilities and sell products from participating merchants. "We're moving the 'buy' button and the whole checkout into the surface where the inspiration strikes, instead of sending readers away to other shops," explained Marcus Jacobsson, Co-founder of Tipser and now VP of Checkout Everywhere at Bolt in an interview with Retail TouchPoints. "It makes it very easy for services and publishers like The Independent to open up their own shops with the complete inventory, but without actually holding that inventory."
The integration at The Independent launched in September 2022 with a set of participating brands including Weekday, ARKET, Panda, Facegym, Love Brand & Co. and Molton Brown, and more are on the way, according to Price: "As we build up that merchant list, which we're constantly working on, we will continue to increase the amount of links that go through the Bolt solution rather than passing them off to affiliates."
Social Commerce Meets Affiliate Marketing
The Independent's move is yet another sign that ecommerce has officially moved beyond the store website; consumers increasingly expect to be able to make a purchase when and where inspiration strikes, whether that be on social media, while streaming videos or directly in search engines. So it should come as no surprise that publishers also want in on the action.
Here's how it works on IndyBest: Readers discover products via editorial reviews and can click on a "Buy Now" button directly within the article. A pop-up PDP (Product Detail Page) opens where they can add items to their cart and then either return to reading or check out. "So compared to the traditional affiliate journey, where they go off to the site that sells the product and complete the journey there, they will complete everything on that article page," explained Price. "When they close the checkout, they're back on the article if they want to continue shopping or reading or doing something else."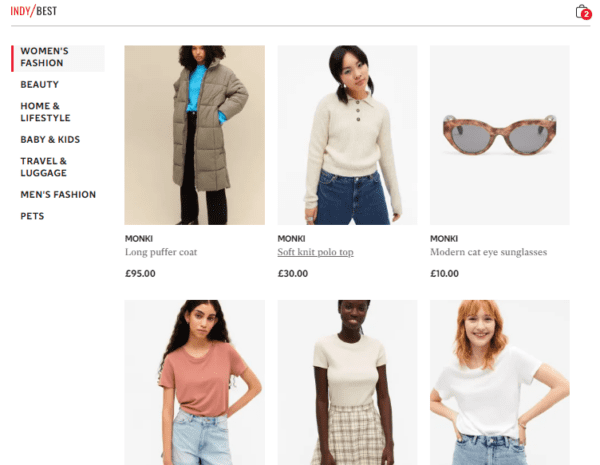 Users also can go directly to the IndyBest storefront to shop all available items in one place. Bolt then sends the order to the brand or merchant for fulfillment: "We integrate with the merchant's processing system, and it appears just like any other online order," said Jacobsson. "Then the merchant takes over for fulfillment, logistics and so on."
"The beauty for us is that we have Bolt as the intermediary to centralize the customer service and all those bits so that we can keep that relationship and experience with our readers consistent across all the different merchants and ensure that they get the best service," added Price.
Another positive for The Independent is earning higher commissions than through affiliate links. "The Bolt solution takes it a step further [than affiliate links], because there is no doubt about our role in generating that sale," said Price. "And because the sale has come directly from us, we are able to negotiate substantially higher commissions with the brands that we work with."
"From the brands' perspective this is also very exciting because they see bigger sales than the affiliate solution," added Jacobsson. "They also really appreciate the stronger endorsement by the publisher, and because this is clearly endorsed, it's also very easy to manage — there's [not the level of] negotiations you see in advertising because it's performance based. This is a new sales channel that The Independent is opening up for the brands that they select."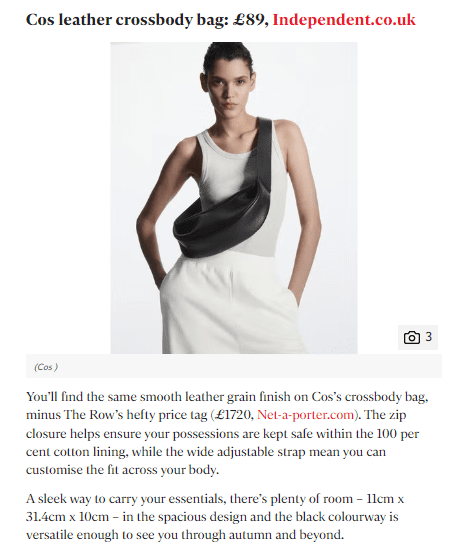 This doesn't necessarily mean the end of affiliate marketing. Price said he still believes in the model, and IndyBest will still have plenty of affiliate links, in part because the Bolt solution can only be implemented with brands that have onboarded with Bolt. Even for products with the Bolt integration, Price said articles will still include price comparisons and other ways to purchase, but "we do hope that our readers want to help support the journalism they're reading and that they trust, and that [as a result] we'll see a higher conversion through the Bolt checkout."
Part of this is educating readers on that "Buy Now" button and what it means. The Independent is doing that with a dedicated page explaining the Bolt partnership to readers. "Explaining it to our audience is part of the journey for us," said Price. "While we think that people will trust that journey and want to go on it with us, it is a new, different thing, so we are taking the time to educate them on what the partnership is, how it works and what it means for them."
The Opening of a New Commerce Channel
While The Independent may be among the first publications to actually implement onsite commerce in this way, it's a fair bet others will be close behind: Meredith's titles seem primed for this kind of integration following that company's acquisition by SEO-focused digital publisher Dotdash; and Hearst recently appointed its first-ever Global Chief Revenue Officer, tasked with leading that company's international commercial division as it "accelerates its digital transformation."
It's all part of an ongoing blurring of the lines between content and commerce; in fact, now that the transaction moment is no longer relegated to commerce-centered environments, the very idea of who can be a retailer has expanded exponentially.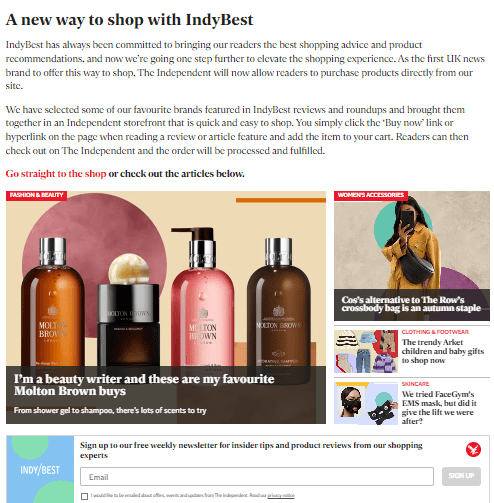 "What I like about the commerce offering here is that it's super-transparent to the consumer," said Jacobsson. "The Independent, in this case, has selected products that they like and endorse, and they're selling on their site. In the advertising world it's all a gray zone. For example, are the banners on a publisher's site endorsed by the publisher or are they just placed there by programmatic automation? That to me is the clear [differentiator] here — we're powering publishers' stores, where publishers have curated the products that they want to endorse to their readers. It's an active choice and the offer is very clear to the consumer."
In fact, in the case of The Independent, the publication itself is listed as the retailer for the products available directly on its site, although all the fulfillment and delivery is handled by the brand, with Bolt as the go-between.
"Even before affiliates the line has always been, not blurred, but there's always been a bit [of this] in terms of what people are selling and why people are talking about it," Price admitted. "Technology like Bolt's has made it clearer around what that is, why we are doing it and the benefits to both the reader and to us. It's just a much more transparent way of doing something that's been done for a very long time."
This kind of transparency is becoming increasingly important as consumers get more savvy about digital interactions and how their data is being used. "I think this is a response to the cookie legislation and some of that data sharing that is many times hidden," added Jacobsson. "This is a solution for brands and publishers to sort this out."
Which does raise the question, who gets the data in these transactions? The answer is both; the brands and the websites gain not just financially but also from the increasingly valuable asset of first-party consumer data. The website, in this case The Independent, gets additional insight into its readers, including behavioral data. The brand partner gets all the information needed to fulfill the order — so not the full customer profile, but still some pretty useful information like name and address.
As far as Price is concerned this only the beginning of "how we can use the same trust we generate from our journalism to drive transaction commerce." The publication is currently looking at expanding similar offerings into other verticals like hotel reviews and travel: "We're looking forward to building this partnership and seeing what other things we can do around it," said Price. "I think it opens up some interesting doors that we still need to explore around diversifying a product offering outside of specific articles we're writing at the moment."